Discussion Starter
·
#1
·
Our MINI story so far ...
Our first MINI was a new MINI Cooper bought in 2008. Chilli red / white roof
As you can see went a bit crazy on the chequered theme lol
Did a couple mods on this MINI including, a set of new crown 17" alloys, JCW scuttles, MINI genuine parts chequred dash and a chilli red boot handle to replace the chrome one
We sold this after about a year
Then in 2010 we bought a three year old MINI Cooper S with the dealer fit stage 1 JCW engine kit fitted
Did few mods on this one too - genuine black JCW R112 alloys, wrapped the beltline, front and rear light surrounds, petrol filler cap, black mirror caps fitted, scuttles replaced & a ITG cone filter
Looked like this when we sold it -
Foreword to September 2013 when we got a new R56 Midnight Black & Chilli Red FJCW Hatch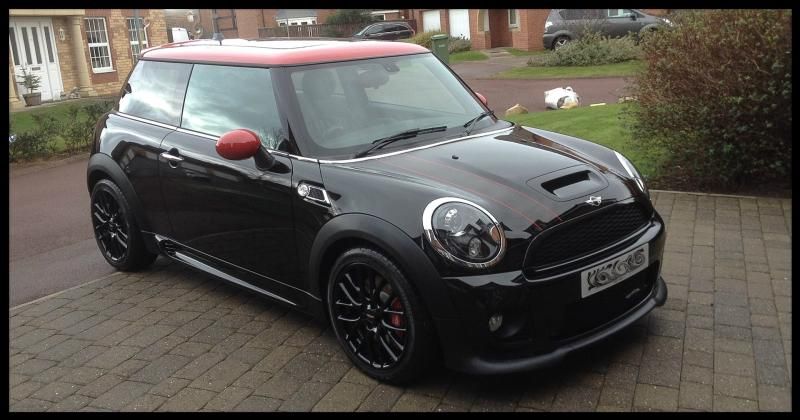 Due to practicality issues and more Grandkids lol this was sold in March 2015 after 18 months of ovwnership
With the need for more space in the future the Ka has to go
The replacement?
F55 MINI Cooper S 5 Door
White silver metallic
Roof & mirror caps in black

Cloth double stripe upholstery
Colour line - Carbon black
Interior trims - Gloss black check

16" Victory spoke alloy wheels in black
So I reckon I must have the most basic spec F55 MCS 5 door around lol
Still, in standard form there is ample enough spec for me / us, so we're happy enough
Having never tried and always wanted to try a lease deal, I couldn't resist this one over 2 years
With it being a lease car the modding will be little to non-existent. Honest!
We were initially quoted end of September early October delivery, but having just recieved an email from the Lease broker -
'Just a quick update to advise you that your vehicle is scheduled to be with the dealer the week commencing the 5th of September'
So it looks like we are going to get it much sooner than expected !