Discussion Starter
·
#1
·
Having read the numerous complaints about people trying to get the app connected, i thought i'd have a go on the wife's Mini Countryman (July 2017) which she purchased a few days ago.
Download iPhone app. Typed in VIN. All connected fine without having to even go to car however, i noticed there were a few things missing like the ability to lock doors etc. Only really wanted to be able to track car in case it was ever stolen.
Saw there was another app on app store. Downloaded it, wouldn't take my VIN.
Removed the other mini app suspecting a conflict. Now neither will accept VIN.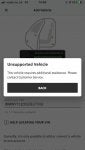 Called BMW as per app instructions only to be told my car was too old and it would not work unless connected to car with a lead. Told him that one app worked yesterday and he said it was impossible!!!
Anyway, after a lot of searching, here's how i got one app working with limited capabilities.
One app only works with cars from 03/2018 onwards. If your car is pre 03/2018, download the 'Mini Connected' app in the picture below. From 03/2018, you can use the 'Mini' app. (I assume it works but can't try)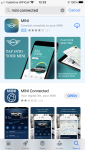 Plug phone (i used an iphone) into USB port in front of gearstick
Put car i-drive screen onto 'Mini Connected'
Set up an account on phone if you haven't done so already.
Log in to app using your username and password.
At this point, i was about to type VIN into app and i saw 3 new lines appear on mini screen.
Then my app moved to a new screen (without having to type VIN). I assume car sent VIN to iphone app.
3 lines disappeared from Mini iDrive screen and app showed my car as below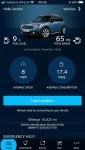 Unplugged phone from car and it is now connected when indoors. No need to plug in.
As you can see, very limited capability through app but i hope this helps someone else.
In the meantime, i'll be e-mailing BMW to complain. The car clearly has the capability to be connected but BMW seemingly can't be bothered to provide a proper app.